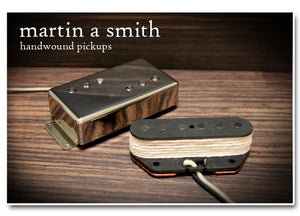 Telecaster '72 Custom Set
If you have a Telecaster '72 Custom Reissue, I have you covered with a set that includes a Telecaster bridge pickup designed to compliment my Wide Range Humbucker in the neck.
For the neck position, choose from my Vintage Wide Range Humbucker with AlNiCo 3 magnets, or my Modern style with either AlNiCo 5 or threaded FeCrCo 5 magnets.
And for the bridge positon either a custom wound bridge pickup wound with 43awg wire to approximately 11k to better match the output of the neck position, fitted with AlNiCo 3 rod magnets to create a clear, balanced sound and retain that classic Tele twang, or from my range of Telecaster bridge pickups
"Garageland" Telecaster Bridge >
Available in two cover options: "spaghetti-style" signature logo, or plain covers.
Vintage neck/Custom Overwound bridge specs:
| | |
| --- | --- |
|  DCR | Neck: 10.4k, Bridge: 11.0k |
| Inductance | Neck: 6.2H, Bridge: 5.7H |
| Wire | Neck: 42awg SPN, Bridge: 43awg Plain Enamel |
| Magnets | AlNiCo 3 |
As with the originals, 1Meg pots are recommended for the neck WRHB to really bring out the best of the WRHB, and I am able to provide a suitable set of pots and caps.