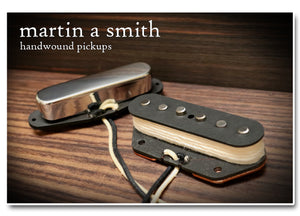 "Garageland" Telecaster Bridge
Inspired by the early/mid-60's Telecasters that found their way into the hands of the British pub rockers and early punks like Dr. Feelgood and The Clash in the 70's, this set has that scooped, aggressive tone that defined an era. Thanks to the relatively low wind found on Teleaster pickups of this time, they have great clarity and plenty of twang.
With a lower output of around 6.5k, the bridge is wound with 42awg plain enamel wire, also uses AlNiCo 5 magnets, with the raised D and G poles common to the time.
Using vintage style cloth push-back hook up wire it has a seperate ground wire for the bridge baseplate or neck cover, so you can make sure it has the correct phase to match any other pickup you may have installed.
As standard these pickups are lighty wax potted to allow a more open and detailed sound, but reduce the chances of any unwanted microphonic feedback caused by the cover or baseplate.

| | |
| --- | --- |
|  DCR | 6.5k |
| Inductance | 3.3H |
| Wire | 42awg Plain Enamel |
| Magnets | AlNiCo 5 |