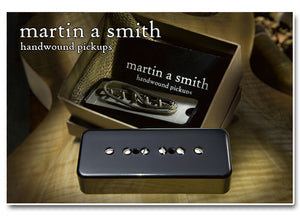 P90
Wound to approximately 8.0k (bridge) and 7.8k (neck) with plain enamel wire like they were in the '50s.

Using degaussed, rough-cast AlNiCo 5 magnets, these P90s have a fat tone with plenty of bite. They really come alive when driven for that classic rock tone, while maintaining great clarity and note separation.

Available in soapbar and dogear style with black or cream covers.

As standard these pickups are not wax potted to achieve a more open and detailed sound.
| | |
| --- | --- |
|  DCR | Neck: 7.8k, Bridge: 8.0k |
| Inductance | Neck: 6.7H, Bridge: 7.4H |
| Wire | 42awg Plain Enamel |
| Magnets | AlNiCo 5 |