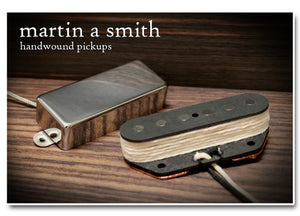 Vintage Telecaster/Firebird Set
One of my personal favourite pickup combinations, this set combines the fat sparkle of a vintage Firebird neck pickup with the bright twang of a Telecaster bridge pickup. These two pickups compliment each other fantastically, while giving a good range of verstile sounds.
Wound to 6.4k with 42awg plain enamel wire, the Firebird neck pickup is constructed to capture that great vintage fat, doubled-up single-coil clarity, sparkle and power. Modern versions tend to be overwound and use ceramic magents, making them harsh and overpowered. Mine, however, like the early 60s originals, use AlNiCo 5 bar magnets, coupled with a steel reflector plate to increase the overall inductance of the pickup.

The Telecaster bridge pickup is loosely based on the original Broadcaster pickups, with AlNiCo 3 magnets and is scatter wound with 42awg plain enamel wire to roughly 7.5k to to create a clear, articulate pickup with plenty of that classic Telecaster twang.
As standard these pickups are lighty wax potted to allow a more open and detailed sound, but reduce the chances of any unwanted microphonic feedback caused by the cover or baseplate.
| | |
| --- | --- |
|  DCR | Neck: 6.4k, Bridge: 7.5k |
| Inductance | Neck: 2.6H, Bridge: 4.9H |
| Wire | 42awg Plain Enamel |
| Magnets | Neck: AlNiCo 5, Bridge AlNiCo 3 |